Diamond Art for Aussies
Relax and can create amazing works of art at home. It's easy to learn and super addictive! No need to spend weeks learning how to draw, paint or even stitch or crotchet.
All you need is patience. Simply pick up a tool, follow the guide and forget the world as you indulge and involve yourself in a deeply relaxing, but incredibly creative activity.
So many people are just now discovering this wonderful new craft. It has literally changed lives for the better, especially during these trying times.
The best part is, kits are affordable and come conveniently packaged with everything you need.
SHOP NOW
Create Love Share - Why buy from us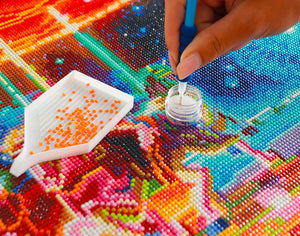 Genuine resin drills
Any avid diamond painter knows that not all diamond drills (beads) are created the same. Our premium drills contain virtually no split or broken pieces compared to cheap quality acrylics (based on manufacturing data). Get the shimmers and sparkles in your art that just feels so incredible to look at!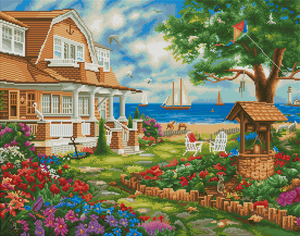 Better designs
We embark on this wonderful craft expecting excellent results to reward our time and patience. All of our diamond art are carefully and precisely hand designed by seasoned professionals that ensure all the colours are exactly where they should be. You get better looking pictures that look like the original image - even at small sizes!
100% Australian business
When you buy from us, you support everyday Australians who sort, package and ship out our products. We are partnered with an Aussie based fulfilment company staffed by passionate workers who are fairly compensated. Best of all, orders are  shipped using Australia Post, so you'll get them delivered fast!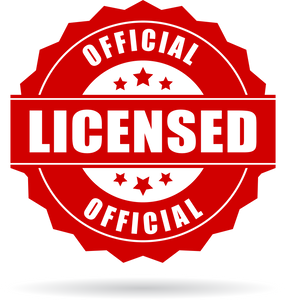 Officially Licensed Designs
Buy from the people who compensate artists fairly for their work. If you're like over 80% of diamond art hobbyists out there, you would prefer to shop for diamond paintings with artworks that haven't illegally been stolen. Yes, you can get it cheaper on AliExpress, Wish or Ebay - but at what cost?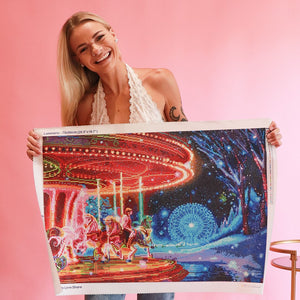 Best quality promise
We are confident you can't get better quality diamond paintings anywhere else. Our kits come packaged with everything you need to get started in sturdy, holographic foil tubes. If you find a higher quality kit from a comparable Australian-based online merchant, simply send us the kit and we will refund you 200% of the kit you bought.
Shop Diamond Paintings Australia
This is diamond art
It's so easy to get started! Simply pick a design you like and you'll get a coded canvas, plus all the tools you need to get started right in one kit.
Instead of paint, colour pencils or thread, you'll be given thousands of tiny little resin "diamonds" to complete your masterpiece. They aren't real diamonds of course - but when you see them glisten and shimmer all the same, it's hard to tell the difference!
Choose from dozens of officially licensed today and begin your journey to creating mind-blowing art that is 100% guaranteed to WOW your friends and family.
Just getting started?
How To Paint with diamonds
Step 1 - Pour out the diamond drills
First, pick a color to start with. We recommend picking a color somewhere in the corners so that it's easier to get started. Cut open the packet and pour out the drills on the tray.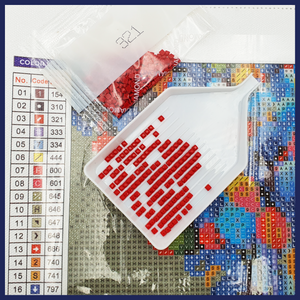 Step 2 - Shake to align, ready the pen
Gently shake the tray from side to side to align the drills with the ridges. Ensure most of them are pointing upwards (flat side down). Take your hollow-tipped stylus and push it into the wax. 
Step 3 - 'Paint' in the picture!
Using the wax-tipped stylus pen, pick up each drill one by one and apply it to the matching symbol on the canvas. Keep working through until the complete picture is filled in. Patience is key - it's worth it!
Become a promoter of our awesome diamond art kits!
Quick Details
- 15% commission on all sales
- Use our custom link + create your own coupon
- 14 days buying window for referred customers
- You can get approval for FREE products

Why Create Love Share?
- Fully licensed designs (ethical buying)
- Local shipping from Melbourne
- Premium quality, affordable prices
Sign up today
Choosing the best diamond paintings to buy
What goes into making a great Diamond Painting Kit? We've compiled together an article combining 10 years of industry experience and everything customers have ever said about hundreds of different companies. Here are the top 3 most important factors:
1.     Quality of the diamond art design (machine automated versus hand design).
2.     Quality of drills (resin versus acrylic).
3.     Quality of the canvas (fiber vs fabric, poured glue vs double adhesive).
How can you avoid the most common pitfalls that customers are faced with when purchasing a new diamond painting art kit, no matter if it's their first or their tenth? No matter how experienced you are, you should always be getting the best value for your hard-earned money. So why spend a bit more time searching for a reputable diamond painting company, rather than just buy a cheap kit off Amazon, Etsy, Ebay, AliExpress or Wish?
Read our three part blog below to find out why you should avoid these sites if you're a real fan of diamond art! (It's quite a long read, so strap in!)